11/30/14
While most wills leave loved ones big estates, bank accounts or cars, I was left something bigger than I could ever imagine.
A seven foot marlin.
Julie and eyed the eighty four inch fish, reeled in by my four foot eleven Aunt and bequeathed to me.
It was hanging over her king size bed, the blue wash board fin larger than
the headboard. She was helping me pick up "Marley" along with some
other belongings that my Uncle Jack insisted I'd have.
Considering
that the only possession of value that I owned was a wok, I was
grateful for any handouts, including the two swivel chairs from the
seventies, perfectly preserved in plastic covers.
"It's all
yours," my Uncle Jack beamed, his bald head perfectly round. My eyes
zoned in on the scab that's been on his nose since the last time I saw
him.
"Thanks Uncle Jack," I smiled. "My thighs remember sticking to those chairs."
He shuffled over to a bookshelf. "Don't forget these." Jack piled onto my
booty three new books my Aunt wrote on nursing. They never made the New
York Times best sellers list, but were translated in Chinese and Spanish
nonetheless.
"Or this." His stubby old hands picked up a flowered
suitcase. The sight of the petite canvas suitcase unzipped a boatload
of memories.
"What's inside?"
"You'll find out." He smiled.
I gave my uncle a big hug, his flannel shirt dwarfing his shrinking body, then loaded the van.
The nose of the fish almost reached the radio, making changing stations
difficult. We listened to a static-laden WXRT as we made it to Chicago,
the marlin's open mouth giving the impression it was singing to the
Beatles.
As we pulled into the front of our building, the Friendly
Towers, I scratched my head. "Okay Julie, now that I got the fish, how
do I get it on the wall?"
Julie threw on her flashers. "Ben will help you."
"Who?"
"Ben. He's tall, with a straggly beard." She turned on her flashers. "Sorta looks like Jesus."
"All
of the guys at Jesus People look like Jesus," I grunted, "even the
crust punkers."
"But Ben doesn't have tattoos or a nose ring." She
popped open the back door. "Just a real deep voice."
Julie's
description helped. After we unpacked the van and managed to get the
marlin into the lobby, I snooped around the dining hall for a tall, non
pierced version of Christ and saw Ben, lurching over the fruit bowl with
a banana in his back pocket. I asked him if he'd help me with the fish.
"A seven foot marlin? Let me get me drill." Julie wasn't kidding. Ben's voice was smoother than a baritone sax.
As
Smooth Jazz Jesus put the fish on my wall, I surveyed my booty, placing
the preserved chairs in the room and the pristine books on my
bookshelf. I anxiously unzipped the flowered suitcase, wondering what
was inside.
I was hit with a blast from the past– the smell of my
Aunt's face cream–which powered the musty smell of the other
treasures. Letters from her brother during WWII. A tattered report card
from elementary school. A faded Baptism certificate. Coral earrings and
cocktail rings. Yellowing news clippings of my Aunt in various hair
styles and eye frames, receiving accolades for her work.
Ben packed up his drill and nodded. "This fish ain't going nowhere."
"Thanks Ben."
So there I was, in my fishbowl size room with one heck of a large roommate. Next to its nose, I hung up a two inch clipping, Local Girl Gets Post at Illinois U and smiled.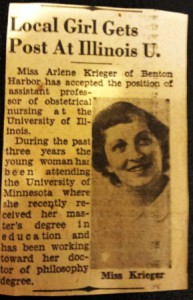 I don't know which was the biggest catch.
Today, I entered a new door.

I moved into Jesus
People USA, aka Hippies for Jesus. It's community style living where the
residents serve the poor and homeless in Uptown, Chicago, of which I am one of
them. It's where I'll be staying until whatever door opens next.
Julie Andrews, the housing director, let me into my new home.
Make that a not so new.
While Julie shares the name of the world's favorite singing nanny, her voice
was closer to Peppermint Patty from Charlie Brown.
She brought me up the elevator of Friendly Towers, the building Jesus People
share with an old folks home. My nose took in the smell of cigarettes and
drywall.
Julie used her hip to pop open the old door. "Make yourself comfortable, but
not too comfortable. You'll be staying here for a few weeks."
I looked at my new nano-digs, about four hundred square feet of Post modern
grunge, complete with a hissing radiator and thirty layers of paint. It
reminded m of the apartment you see on a police shows where the detective finds
the dead heroin junkie in the Bronx. I pushed away the tattered curtain to peer
out the window, trying to ignore the bullet size hole in the thick glass. I
smiled when I saw who was outside my window: Christ himself.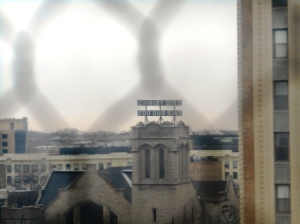 He was glowing on top
of local church followed by the words DIED FOR OUR SINS.
"Want to peep the bathroom?" Julie smiled.
"Sure."
Her hand reached for where the knob on the door should be.
"Where's the knob?"
"Oh, there's only one," she chuckled, "Make sure you keep it on the inside of
the bathroom when you are doing your business so you don't get locked in."
"You're kidding." I looked around the small bathroom. A row of dead
plants on the windowsill, the walls screaming lime green.
"No." She pointed to the community knob on the inside of the door.
"So if you don't bring the knob, bring your phone so you can call for
help." Then she pointed to the other knobless door.
"Or, you could knock on the door of Loretta."
"Of who?"
"Loretta," Julie tossed her long hair back. "You'll be sharing
your bathroom with her." Julie shoved the knob on the door and popped it
open, revealing a room that was bride's maid periwinkle decorated with stuffed
animals and butterflies "But don't worry, she's as timid as a mouse."
I crinkled my nose her beanie babies.
"Relax about the knobs. Remember, you can only go thru one door at a time."
Julie placed the brass orb in my hand, the metal cold and smooth. "Call me
later if you need anything."
I looked around and wondered what new adventure I was entering Knowing that the
knob-less junkie suite was only my temporary living quarters, I didn't call
HGTV for help. Instead, I placed my Prada boots on the ledge of the loft bunk,
stickied a few photos of my mom on the wall, and then, kicked myself for not
bringing a toilet warmer from China. The porcelain on the toilet was cold and
it wasn't even December yet.
Finally, I placed the door knob on my book shelf.
Maybe it was good I only had one. I tend to always care about "what's next"
instead of the door that's directly ahead of me. I looked at my reflection in
the brass and wondered what lesson it might hold, like one of those lofty
quotes I had to memorize in the 8th grade. Doors to success, opportunity
knocking, or a knob without a door trying to find its purpose.
Hmm. Maybe God is trying to teach me a lesson, I smiled.
But when I remembered the dead plants in the bathroom , I realized the true
meaning of the one knob.
The building is managed by hippies.
Imagine you sent your only child eight thousand miles
away to go to school in Chicago. Not a suburb, but Chicago, the murder
capital of America with shootings heard around the world.
You trust your child at a faith based school, spending as much as $40,000 a year to live and study there.
And this is the only thing that separates your child from the headlines.
This
door has been an object of contention between myself and uh, my former
employer. I am once again homeless, this time due to my plight to stick
up for a group of international students studying at a faith based
school in Chicago.
While the doors to the school building are modern and of top quality, the door to the boy's dorm is uh, let's say, a hooptie.
When
I took the position in August, the latch on the side of the door was
loose, the screws hanging out. The school assured me and my husband,
the matter would be taken care of.
I had envisioned a door similar
in quality to what is standard at dorms housing students, particularly
those housing minors. I thought the school would invest $800 in a door
with a self locking mechanism, possibly a fob for a key-less entry, or
one that was at least up to par with all of the other door locks in the
neighborhood.
After all, this is Chicago, not the Little House on the Prairie.
Well,
after a month of complaining, emails and "We'll Get To It" responses,
the door knob is still loose, the door found open, and keys routinely
get stuck inside, which was extremely embarrassing in when it happened
in front of parents who flew in from the flip-side to check up on their
son.
But the school admin assures me that "proper training of these students will keep the dorm safe".
I
am not sure this is the time or neighborhood to check a teen's
responsibility. But hey, it's a Christian school and Jesus will send an
angel to save them.
Try explaining that to atheist students.
Meanwhile,
the adjacent school doors (with no students sleeping behind them), have
fumble free, state of the art locks like this.
But now, I am out the door .
Both the crappy and the nice one.