11/30/14
While most wills leave loved ones big estates, bank accounts or cars, I was left something bigger than I could ever imagine.
A seven foot marlin.
Julie and eyed the eighty four inch fish, reeled in by my four foot eleven Aunt and bequeathed to me.
It was hanging over her king size bed, the blue wash board fin larger than
the headboard. She was helping me pick up "Marley" along with some
other belongings that my Uncle Jack insisted I'd have.
Considering
that the only possession of value that I owned was a wok, I was
grateful for any handouts, including the two swivel chairs from the
seventies, perfectly preserved in plastic covers.
"It's all
yours," my Uncle Jack beamed, his bald head perfectly round. My eyes
zoned in on the scab that's been on his nose since the last time I saw
him.
"Thanks Uncle Jack," I smiled. "My thighs remember sticking to those chairs."
He shuffled over to a bookshelf. "Don't forget these." Jack piled onto my
booty three new books my Aunt wrote on nursing. They never made the New
York Times best sellers list, but were translated in Chinese and Spanish
nonetheless.
"Or this." His stubby old hands picked up a flowered
suitcase. The sight of the petite canvas suitcase unzipped a boatload
of memories.
"What's inside?"
"You'll find out." He smiled.
I gave my uncle a big hug, his flannel shirt dwarfing his shrinking body, then loaded the van.
The nose of the fish almost reached the radio, making changing stations
difficult. We listened to a static-laden WXRT as we made it to Chicago,
the marlin's open mouth giving the impression it was singing to the
Beatles.
As we pulled into the front of our building, the Friendly
Towers, I scratched my head. "Okay Julie, now that I got the fish, how
do I get it on the wall?"
Julie threw on her flashers. "Ben will help you."
"Who?"
"Ben. He's tall, with a straggly beard." She turned on her flashers. "Sorta looks like Jesus."
"All
of the guys at Jesus People look like Jesus," I grunted, "even the
crust punkers."
"But Ben doesn't have tattoos or a nose ring." She
popped open the back door. "Just a real deep voice."
Julie's
description helped. After we unpacked the van and managed to get the
marlin into the lobby, I snooped around the dining hall for a tall, non
pierced version of Christ and saw Ben, lurching over the fruit bowl with
a banana in his back pocket. I asked him if he'd help me with the fish.
"A seven foot marlin? Let me get me drill." Julie wasn't kidding. Ben's voice was smoother than a baritone sax.
As
Smooth Jazz Jesus put the fish on my wall, I surveyed my booty, placing
the preserved chairs in the room and the pristine books on my
bookshelf. I anxiously unzipped the flowered suitcase, wondering what
was inside.
I was hit with a blast from the past– the smell of my
Aunt's face cream–which powered the musty smell of the other
treasures. Letters from her brother during WWII. A tattered report card
from elementary school. A faded Baptism certificate. Coral earrings and
cocktail rings. Yellowing news clippings of my Aunt in various hair
styles and eye frames, receiving accolades for her work.
Ben packed up his drill and nodded. "This fish ain't going nowhere."
"Thanks Ben."
So there I was, in my fishbowl size room with one heck of a large roommate. Next to its nose, I hung up a two inch clipping, Local Girl Gets Post at Illinois U and smiled.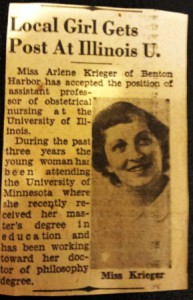 I don't know which was the biggest catch.
Today, I entered a new door.

I moved into Jesus
People USA, aka Hippies for Jesus. It's community style living where the
residents serve the poor and homeless in Uptown, Chicago, of which I am one of
them. It's where I'll be staying until whatever door opens next.
Julie Andrews, the housing director, let me into my new home.
Make that a not so new.
While Julie shares the name of the world's favorite singing nanny, her voice
was closer to Peppermint Patty from Charlie Brown.
She brought me up the elevator of Friendly Towers, the building Jesus People
share with an old folks home. My nose took in the smell of cigarettes and
drywall.
Julie used her hip to pop open the old door. "Make yourself comfortable, but
not too comfortable. You'll be staying here for a few weeks."
I looked at my new nano-digs, about four hundred square feet of Post modern
grunge, complete with a hissing radiator and thirty layers of paint. It
reminded m of the apartment you see on a police shows where the detective finds
the dead heroin junkie in the Bronx. I pushed away the tattered curtain to peer
out the window, trying to ignore the bullet size hole in the thick glass. I
smiled when I saw who was outside my window: Christ himself.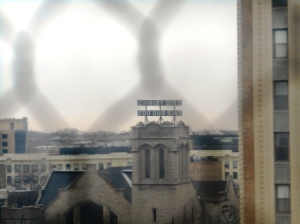 He was glowing on top
of local church followed by the words DIED FOR OUR SINS.
"Want to peep the bathroom?" Julie smiled.
"Sure."
Her hand reached for where the knob on the door should be.
"Where's the knob?"
"Oh, there's only one," she chuckled, "Make sure you keep it on the inside of
the bathroom when you are doing your business so you don't get locked in."
"You're kidding." I looked around the small bathroom. A row of dead
plants on the windowsill, the walls screaming lime green.
"No." She pointed to the community knob on the inside of the door.
"So if you don't bring the knob, bring your phone so you can call for
help." Then she pointed to the other knobless door.
"Or, you could knock on the door of Loretta."
"Of who?"
"Loretta," Julie tossed her long hair back. "You'll be sharing
your bathroom with her." Julie shoved the knob on the door and popped it
open, revealing a room that was bride's maid periwinkle decorated with stuffed
animals and butterflies "But don't worry, she's as timid as a mouse."
I crinkled my nose her beanie babies.
"Relax about the knobs. Remember, you can only go thru one door at a time."
Julie placed the brass orb in my hand, the metal cold and smooth. "Call me
later if you need anything."
I looked around and wondered what new adventure I was entering Knowing that the
knob-less junkie suite was only my temporary living quarters, I didn't call
HGTV for help. Instead, I placed my Prada boots on the ledge of the loft bunk,
stickied a few photos of my mom on the wall, and then, kicked myself for not
bringing a toilet warmer from China. The porcelain on the toilet was cold and
it wasn't even December yet.
Finally, I placed the door knob on my book shelf.
Maybe it was good I only had one. I tend to always care about "what's next"
instead of the door that's directly ahead of me. I looked at my reflection in
the brass and wondered what lesson it might hold, like one of those lofty
quotes I had to memorize in the 8th grade. Doors to success, opportunity
knocking, or a knob without a door trying to find its purpose.
Hmm. Maybe God is trying to teach me a lesson, I smiled.
But when I remembered the dead plants in the bathroom , I realized the true
meaning of the one knob.
The building is managed by hippies.
Imagine you sent your only child eight thousand miles
away to go to school in Chicago. Not a suburb, but Chicago, the murder
capital of America with shootings heard around the world.
You trust your child at a faith based school, spending as much as $40,000 a year to live and study there.
And this is the only thing that separates your child from the headlines.
This
door has been an object of contention between myself and uh, my former
employer. I am once again homeless, this time due to my plight to stick
up for a group of international students studying at a faith based
school in Chicago.
While the doors to the school building are modern and of top quality, the door to the boy's dorm is uh, let's say, a hooptie.
When
I took the position in August, the latch on the side of the door was
loose, the screws hanging out. The school assured me and my husband,
the matter would be taken care of.
I had envisioned a door similar
in quality to what is standard at dorms housing students, particularly
those housing minors. I thought the school would invest $800 in a door
with a self locking mechanism, possibly a fob for a key-less entry, or
one that was at least up to par with all of the other door locks in the
neighborhood.
After all, this is Chicago, not the Little House on the Prairie.
Well,
after a month of complaining, emails and "We'll Get To It" responses,
the door knob is still loose, the door found open, and keys routinely
get stuck inside, which was extremely embarrassing in when it happened
in front of parents who flew in from the flip-side to check up on their
son.
But the school admin assures me that "proper training of these students will keep the dorm safe".
I
am not sure this is the time or neighborhood to check a teen's
responsibility. But hey, it's a Christian school and Jesus will send an
angel to save them.
Try explaining that to atheist students.
Meanwhile,
the adjacent school doors (with no students sleeping behind them), have
fumble free, state of the art locks like this.
But now, I am out the door .
Both the crappy and the nice one.
08/18/14
I've just adopted a half a dozen international teens.
I have taken on the role as a dorm mother at high school in Chicago. It's the only thing that could be weirder than living in a foreign country for four years. Three teen boys from China, one from Germany, one super-sized one from Turkey (who is two inches taller than the bed is long), and a teen girl from Shanghai who is glued to her iThing.
If I had the itch to be a mother, I'm scratching it all at once.
The job requires that I put all the experience I have learned from all every aspect of my life into a blender. ESL teacher. Youth group leader. Recipes from Hamburger Helper focus groups. A dang good wok from China. But most important, an insane tolerance for the smell of Axe.
But the big question is, what on earth do I cook for dinner?
It's like feeding time at the zoo, with dietary constraints. The Chinese kids love pork, the student from Turkey will not be able to eat it. The German student can't tolerate spice.
Alice from the Brady Bunch made it look so easy.
If you have any meal ideas, casseroles, one pan meal wonders, that are easy on the pocket and dishwasher, please send them my way.
07/17/14
If you want to boost the attendance at your next reunion,
forget the open bar and fancy invites. Just write a note on the corner of some old homework that says:


REMATCH AT CLASS REUNION, IN PARKING LOT AFTER DRINKS

That's what got a classmate to our previous reunion.

Sandy K, my fifth grade locker partner, shared a story of how she
challenged someone to a fight during our "there's hair growing down
there" years, and her opponent showed up to the last reunion to take care of some "unfinished business".

Sandy, a Girl Scout with a dark side, could take out a biker
if she wanted, in sixth grade yet. She was always nice to me, since I never squished her bologna
sandwiches.
One day, Sandy announced a fight after school in the church behind the old junior high. We passed notes all day long, except for Mr. Wilson's class, where you'd be as good as dead. And no one could concentrate on any of that important stuff you learned in junior high. Instead, all we could think about was the hand fulls of pulled hair, bloody noses and kicked clarinet cases to come.
So once that bell rang, Sandy and her fans headed across the street.

But whoever Sandy challenged for a fight that day, didn't show up
at the church. Instead, it was Suzy K, who was a head taller than the rest
of us, and two heads taller than Sandy.

Rock'em Sock'em Sandy got her block knocked off.

Little did Sandy know, but Suzy K felt
guilty about this for twenty five years. That was the driving reason why she
showed up at our last reunion: just to apologize to Sandy for the switch and
hit. Sandy laughed, "That fight was my all time favorite school memory!"

The
lesson to be learned? If you want to boost the attendance at your next reunion,
forget the open bar, just announce there will be a fight in the parking lot
afterwards to take care of some unfinished middle school business.

Just no
hitting of a classmate's new titanium knee.
06/12/14
I spent my last day in Spain in Barcelona. I went nuts in the Picasso museum my eyes eating up his sketch pad drawings like tapas. But the real art is not in the museums, but on the streets. Here is just a taste of what my camera devoured.
06/06/14
"Close your eyes, David. I see two Sunny side up eggs frying in the sun. "

"I know. I guess I forgot to tell my mom about the topless beaches."
Nude beaches, legal prostitution and gourmet brown bag lunches. Just a few minor details that my nephew left out of his letters home from his term studying abroad.
I stopped to visit David in Alicante, on my way home from the flipside. This hoity toity resort town is on the Mediterranean, about a two hour train from Madrid and light years from what I imagined his "grueling term abroad" to be.
We consumed all five of the Spanish food groups; wine, ham, sausage, seafood and olives. The tapas were insane, including things not featured in a college dorm cafeteria.
Chorizo sausage, super sized prawns.
And that famous Spanish ham.
The good stuff is from a wild black footed pig that only dines on acorns. I ate until my stomach cried uncle. So I guess foods can be foodies, too.
Yes, there was a lot of fresh fish pulled in from the Mediterranean.
And crazy desserts.
But to my nephew, it's peanut butter and jelly. No Kraft mac and cheese from the blue box. He gets home made paella every Tuesday and lunches packed by his host mother with chorizo .
Instead of climbing up to the tenth century castle, we did the college thing: we drank beer.
Then afterwards, we repented at the smallest church in Spain.

As for Chinese food?
No thank you.
05/24/14
What is the best way to say Goodbye?

With chicken feet, water fights, and waterproof mascara.
The 8th grade class organized a lock-in, inviting a few teachers as chaperones and about thirteen thousand mosquitoes.



Activities included the normal: chicken feet eating contests, Zombie dancing with the Chinese old folks and watching the sunrise on the school roof.

And oh yes, checking out the guys john.
While it was fun, it was awfully tough. Amd I'm not just talking about the lack of sleep.
While the kids were playing games, I'd sneak in the bathroom, latched the door and sobbed. Half the tears were for me, half were for them, since many of the students come from stoic cultures where crying is not acceptable. So I had to cry their tears, too.

Yep, Learning to say goodbye is the toughest lesson I have ever taught.

Class dismissed.

05/20/14
"Mrs. Mac, that envelope says KIA."
I put the viral video on pause. Sure enough, six minutes and twelve seconds into Zach Sobiech's video, ONE YEAR LATER, the envelope we mailed to his mother was seen.
"OMG" I remarked as I spilled my coffee.
"You all just made a difference.
Tuesday May 20th, 2014, was the one year anniversary of the death of Zach Sobiech.
If his name is familiar, it's because he is the kid who "lived" with cancer and wrote the viral hit, CLOUDS.
My wired class was touched by his music and his death last year. We sent his family cards, not thinking much of it until we watched his video entitled "ONE YEAR LATER" in class today.
While previewing it at home, I notice an envelope with handwriting and mispellings that looked familiar. It wasn't until one of my students in class said, "THAT'S OUR LETTER!" that it dawned on me, I was looking at an envelope that I addressed that contained hope and hugs for a family that needed them.
As we watched the touching video filled with tears, I reminded my students that they each have touched more lives than they will ever know.
05/17/14

Students, I want you to finish this sentence.
"This I believe…"
It was a writing prompt based on an NPR program of the same name.
My students eagerly completed the sentence, writing essays on everything from "I believe a turtle can change your faith" to "I Believe in Rice" to "I believe Homework can rot your Brain".

But one student's essay took me by delightful surprise. It was entitled, "I Believe in Questioning".

It was written by a student who had the guts to admit he questioned his faith.
Before attending a faith based school he blindly believed in stories of a man being swallowed by a fish and a God created the cosmos in less days it would take him to write a social studies report. But after attending a school full of students who know more about Justin Beiber's life than the God they profess to follow, he called it quits.

"It's important to question your faith," I told this student. "It's my job as a teacher to help you explore your questions."
"Really? So you won't flunk me for writing this essay?"
"I will flunk you for leaving candy wrappers in your desk." I laughed and continued, "A person who has never doubted their faith has never believed. That is a piece of advice I received from a pastor."

He pondered my words of wisdom, "Well then, I'm going to be an atheist as soon as I throw out this Skittles bag."
I am taking my student's atheist declaration with the same weight I take any 8th grader's vow to vegetarianism. It's probably just a phase. But, if one were to question their faith, South East Asia is the place to do it. Below is a handful of my favorite deities in Bangkok.


The God of Stolen Office Supplies
Chao Mae Tubtim Fertility Shrine




Money Offering

God of Windex Glass Spirit House, Sukhumvit


Dinner To Go Shrine. Many stores and restaurants have reserved seating for a local spirit.


Fashion Diva


God Water Sprinkler Combo

Shrine of Fanta Offerings
05/11/14
Every time it's mother's day, a mother sends her ping.
If you lost
your mom, you know what I mean. Just like the missing Malaysian plane, a lost mom will send her messages.

Her maternal homing device finds
you, to tell you to get your elbows off the table or not be so hard on
yourself.
My mother's pings to each of my sibling are unique. To one sister, it's the train. To another, it's a sale at JC Penney. To all of us, it's hearing Claire de Lune or smelling a Whopper Junior.

But what's my unique ping signal from my mom?
Any and everything that has to do with Christmas.

In America, my mom's pings would stop being
detected around February.
But in China?
She's pinging all year long.
Here are some recent pictures I took of my mom's perennial pinging around Kunming.

Peep Snowman.

Papa Beard Claus

Dueling Santas at the import store

A rogue Reindeer at Dairy Queen

Look's who's on the rooftop at Nanya Fengqingyuan

What is your mother's (other other past away loved one's) unique ping to you?

05/04/14
Some of you might remember back in my college days
how I built a Buddha out of foam rubber,
and had a massive party that almost got me kicked out of MSU. Then that
Buddha landed me my first job. Well, you could say, I'm sorta enthralled with Buddhas.
So needless to say, when I go to Bangkok, visiting Buddha statues is on the top
of my list. Here are a few that tickled my spiritual fancy this trip.
Typical Gold Buddha
Yogi Buddha
Peace Out Buddha
Miniature Plastic Tchotchke Buddha
Anorexic Buddha
Under Construction Buddha
Over-Budget Buddha

Caped Superhero Buddha

Ring Around the Collar Buddha
Garden Buddha

While many of these marvels were made of gold or marble, only mind was
made of foam rubber.
If you are wondering the fate of Tyrone, after he got me a job at Leo Burnett, he was my roomie in Chicago. One day, I took a knife to him, stabbed him to death and created many wonderful throw pillows. All that remains is his belly button.

05/01/14
Fear
of all fears.
I love shows like Locked Up Abroad but I never want to star on them.
Yesterday, on my way to Thailand for a medical checkup, I came close. I was at Kunming
Airport, with no known contraband other than a specimen cup.
But while standing in line at Border Control, the official saw something
suspicious on my passport. He got his supervisor took one look at me and then
confiscated my passport.
Yes, my passport.
Jeff and I gulped.
It would be freaky enough if the officials spoke English; but add to it the
language barrier, a loaded colon and a plane to catch, I was leaving in my
shorts what I wanted to drop off at Bumrungrad.
The officials took my passport and disappeared. Every 15 minutes, one would
come out and say, "It will be another 7 minutes. No worry, you no miss
flight."
I speed-dialed my employer's school's on-call translator (who is available for
emergencies like this and for when I need help finding shoe strings at
Wal-mart).
I dialed her, handed the phone to the Border Control Official and then said my
prayers.
Crazy thoughts went through my mind.
Was there a problem with my VISA?
Did someone steal my passport number?
Was a Chinese national trying to pass herself off as a platinum haired
měiguórén?
No.
The numbers of entry date stamp were transposed,what should have been the year
2012 was stamped 2021.
This took about 45 minutes and for the officials to correct, two years after
the initial mistake.
Which, will probably cause more airport delays in my future.
As for now, I won't be making a guest appearance on my favorite show.
04/22/14
Every evening, outside of our back balcony window in Kunming, China, I see some of the country's best dressers gather for an evening of lap dancing.
Not that kind of lap dancing.
Lap dancing at the track at Hu Pan Zhi Meng Xiao Qu.
Hundreds of Chinese Nationals gather to dance around the track doing hokey-pokey style movements in their most stylish outfits.
After watching them for several evenings, I decided to do what any sane american would do.
I joined them, wearing my pajamas.
The nightly lap dance lasts about 45 minutes and is a form of group exercise.
04/18/14
You've probably heard the adage, when life gives you lemons, make lemonade.
But what about butt beans?
It seems as if someone in the cosmos lately has been poking a voodoo doll of me. But instead of moping over my bad cosmic karma, I went to Cafe Laku, a SW Asian coffee chain that sells the infamous brew made with beans excreted from a civet's rear.

The coffee goes for over forty bucks a pop, a little bit more than the styro-foam cups you can get at Citgo.

Instead of getting a cup of Butthole-Joe, I talked the barista out of a bean.

Meanwhile, at the other end of things, you'll get fined at the same place for your droppings.
Go figure.

So, finish the adage please.

When life gives you butt beans…
04/10/14
Tired of your job? These Chinese workers are tired on their job.
Hey! Wake up! There's a clean up in the soy cause aisle!
This looks about as comfie as a middle seat on a fifteen hour flight.

This looks like business class.
Why not just sleep on the sidewalk?
Here's my favorite seamstress. He definitely doesn't work in a sweat shop.
04/07/14

"White lady, why water full of sorrow flow from face?"
I was crying buckets in a mani-pedi place near our xiao qu and the Chenglish expression put corks in my tear ducts.

The Chinese landy handed me a Kleenex and I forced myself to smile.
"Xie xie," I replied.
While Chenglish can be funny, caring words from native Chinese speakers can touch the heart in ways that a Hallmark card could not.

Take for instance, my friend Dou Dou. She's a funky yoga instructor who is a blend of the oldest Chinese traditions and the funkiest new age fashions.
And the garlic breath of all of Naples.
We dinner last night and I broke news to her that I would be leaving Kunming in June.

"Your news gives me Panda Eyes!"
Dou Dou frowned.
"What are panda eyes?" I asked.
"Black eyes of no sleep."
We both started crying, knowing that sad news brings tears, no sleep and dark "panda like" circles around one's eyes.
Sad but true, I will be leaving the land of the weird, returning to the land of Costco and toilets seats this summer.
I don't know for how long, but it's giving me panda eyes.
Here are some pandas created by the little kids at our school.



It's been a year full of them, from the loss of a panda loving student in a helicopter crash to another student leaving early for health reasons.
But one has to believe, just like the schmaltzy expression, "Every cloud has a silver lining", "Every black eye panda has a smile."



Well, at least according to Kunming kindergartners.

03/22/14
In China, there are supposedly two rats for every person and one bike guy for every bike.

This is mine.
He keeps my bike tuned up so I can ride the 45 second commute to my school without a hitch.

I don't know his name or if he has ever hear of Lance Armstrong, but this guy knows his stuff.

He can tighten spokes and straighten out a bent tire for about the price of a Power Bar.
And he does it all while wearing a designer sports coat and screamin' yellow baseball cap.




His bike shop isn't as swank as Johnny Sockets in Chi-town. No bike helmets or bike apparel.

But you can get bike locks, breaks, spokes a chain, or tire tubing, most likely already with a few patches on it.


If you look real close, you can see the bike guy's ancient oil bottle. It looks like its wrapped in the swaddling clothing that Jesus wore in the manger.
The cash register is a cardboard box, which is also very typical.
When it's closing time, he packs it up and drives away.

The bike guys is usually open for weekends by the back gate of entrance one to Hu Pan Zhi Meng Xiao Qu on the weekends.

Here's the three wheeler tricyle also know as the re-cycle. This model is popular with the junk men .
03/14/14

Kite or Feng Zheng flying is one of the most popular traditional sports in China.
It dates back thousands of years, a lot farther back than badminton or karaoke.
Along for just the fun of it, the Chinese will fly kites
to honor their ancestors, tying messages of hope to the tails.

So
the students at Kunming International Academy decided
to honor the
twenty nine lives that were lost at the March 3rd
Train Station Massacre
by making kites.
Bethany Birch, an imaginative teacher lead project "Shine On".
Bethany
figured out how to make the kites, where to get the material and even
orchestrated a kite ceremony with the neighboring Hu Pan Zhe Meng
Elementary school.
Students from both schools wrote messages of love and hope on the kites.

The kites were beautiful, but due to a lack of feng or wind, were a bit grounded.
So even though the kite building ceremony was a good idea that did fly, in actuality, it didn't.
If you look closely, you can see laundry hanging on the enclosed deck of the top floor apartment behind the town houses.
That's where I live.
The shiny kites are a lot more fun to look at. Or to use as a hat.
So what does the Chinese word Feng Zheng for kite mean?
Feng means wind.
To break wind, as in fart, is fàngpì 放 屁.
That is also a Chinese tradition.

03/09/14
In spite of Kunming being the capital the world's most famous region (Yunnan), coffee chains are popping up.
There are several Starbucks, McDonald's Cafes, one bootleg Julias Meinl, plus all kinds of independent baristas.

But my favorite is Cafelaku.

While I just get a common cuppa joe, Cafelaku is famous for their cat skat coffee. It was featured in the movie, The Bucket List, where Jack Nicolson had a taste for coffee beans that had been passed through a civet's digestive system.

Uh, not for me. I'm a Folger's girl.

But if you do have a taste for pooppaccino or other cat skat specialties, you can get them at Cafelaku.

The Pooppaccino will set you back 128 rmb, or roughly twenty bucks.